The Pineapple Thief are back with a brand new album – the bittersweet Dissolution – to be released on the 31st of August for Kscope.
There are some days, days tasting weird, some dreary afternoons by the end of August, dark and melanchonic. Days of meditation, capable of suggesting the choice to enclose our selves in an intimate dimension to think about our lives, about the world sorrounding us. With Dissolution, The Pineapple Thief were able to evoke those dull and, at the same time, so much intimate, colors that make up some moments in human agenda.
Out by the 31st of August, under Kscope, the new work from Bruce Soord & friends seems to incarnate, through and through, that very seasonal and special weather during the end of the summer, when the latter becomes darker, becomes ashes, and snuff itself out by giving all of us a strange feeling of a new begin. But not without any gloom.
The topic of this delicate, harsh, and incisive concept album is, as the reader could have foreseen, the meditation around human being and his life. Among acustic guitar chords and frenetical, distorted riffs, atmospheric keyboard effects and flamboyant drum interludes, the english band tells us about mankind and his new huge, terrible, addiction, that is the smartphone and how its birth changed the communication.
So, I grab a glass full of Chivas, and its strong, incisive, and, at the same time, sweet taste, helps me to create the right context for a so bittersweet album. It's raining outside, the sky is made of lead, it's heavy as grey metal and it seems it wants to be the perfect frame for the next fortyfour minutes.
The basis for the 9 new songs, which will show themselves during the fortyfour minutes of the LP are, as I said, meditation around the dissolution of social relationships, hidden, faked, masked behind new artificial communication ways, alienating and giving birth to some strange, never diagnosticated before, social illnesses.
A gulp, and we start with the first track. Not Naming Any Names, with its two minutes of lenght, displays itself with a purely pianistic intro, light and melanchonic. A very good pilot for our ears, suddenly finding themselves carried inside Try As I Might guitar's chords, while the fateful questione to an unknown interlocutor "What is wrong with me?" is resonating in the background. What could be wrong in a society made of cameras and selfies? The album version, longer of about one minute than the single version, appears to be more compact and incisive, because that single minute gives dynamism and depth; a good track becomes like this an excellent one.
The frames of my eyesight, enclosed within the space of a balcony, the background landscape and my hand full of liquid courage, become gloomier. With Threatening War we enter inside a musically variegate world: a little step back into the calm and atmospheric sounds of Your Wilderness, but gifted with something more. Maybe, this something is that dynamic hopelessness, which is created through seemingly casual crossings between evocative and ambient sections with roaring distorted guitar openings: it's a distinct mark in the whole album.
We can find some Stupid Dream by Porcupine Tree crumbs in Uncovering your tracks, a claustrophobic song, so slow, constant, elegant and sophisticated. Unique, as its british nature is. I sip the whiskey, and I realize how, as the songs are passing by, the taste becomes bitterer and bitterer.
All that you've Got is a tiny pearl, hanging between candid, metallic, syncopated stanzas, which then die into refrains airy like morning breeze; like a river which, once found its delta, dives into a bay.
Far Below, first single released by The Pineapple Thief, it's one of the best tracks from the album; it's dynamical, extremely progressive, made up of energic and minimal distorted riffs, soft acustic stanzas, and, like the cherry on the top of the pie, a slow middle crescendo which leads to a huge explosion, surprisingly originated by those gloomy and sad atmospheres.
So, in the same way, the crossing of soft guitar touches, keyboard notes and strong drum pattern by a great shaped Gavin Harrison, drive us through eleven munutes of wonderful music. White Mist is a titanical song: it grows slowly but costantly, but it's just an illusion, because it decreases in intensity only in order to seek for new, different, explosions. Like a waving seas turning itself into the mother of all the storms, while an evil mist invades the eyesight. It's a cruel mist, like a telematic cage which the human being, now just blind, works on his own dissolution in. On the dissolution of the whole the social fabric.
We are close to the end, and I can finally see the transparent bottom of the glass, disturbed by some lonely brown drops. The sunset and its warm and melancholic atmosphere make way to the darkness of the night. The liquid courage in my body becomes meditation, reasoning, and it makes my mind travel towards far landscapes, wondering how, actually, everything that we believe in our everyday life is, instead, the true origin the madness.
So, Dissolution comes to an end with Shed a Light, track perfect as ending, in which a soft intro made of acustic guitar and voice turns itself into an abrupt darkening of the sound, while guitar clouds hoard on the horizon a passionate sonic storm.
With Dissolution Bruce Soord and The Pineapple Thief reach unmatched levels. The tracks are a true dynamic experience but, at the same time, coherent, within a darker than usual album, full of moments made of heavy and nearly hysterical progressive: this tone is probably due to the presence of Gavin Harrison also in the tracks arrangments.
In conclusion, this new work reminds a glass full of Whiskey. Strong, incisive, and at the same time, capable of caressing and touching usually hidden strings of the human soul. A unique experience, that must be done with a clear mind. Finally, the pineapple thieves succeeded in realizing the biggest of all the robberies, conquering one of the best works of the last year.
Dissolution by The Pineapple Thief: Artwork and Tracklist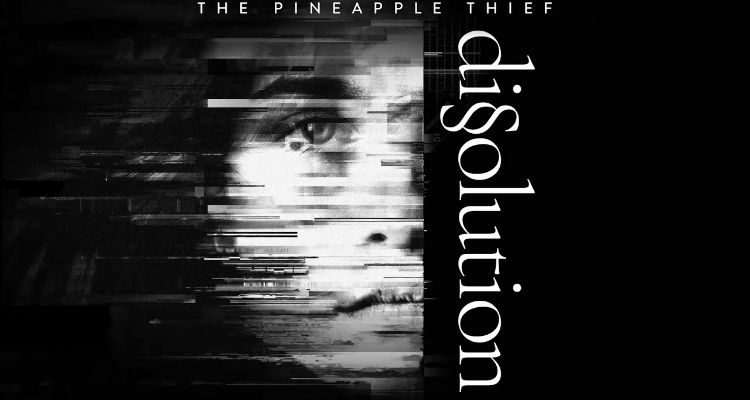 Not Naming Any Names 2:06 
Try As I Might 4:27 
Threatening War 6:38 
Uncovering Your Tracks 4:29 
All That You've Got 3:27 
Far Below 4:36 
Pillar of Salt 1:26 
White Mist 11:06 
Shed A Light 5:20
Lorenzo Natali
Translated by Giulia Della Pelle
Wannabe ricercatrice e wannabe scrittrice. Amante dell'improbabile e del surreale. Adoratrice del Sole e dei dati statisticamente consistenti.